The platform for mobile card solutions, individually designed gift cards and voucher cards available for more than 40 top brands. Innovative card systems for B2C and B2B.
mobi-g® is going the way of multichannel, that makes it possible to send gift cards by smartphone to other smarthones or gadgets with internet access (Tablets, PC, iPod etc.). But there is still the possibility to send classic gift cards made of plastic by physical mailing.
Send your gift card
by e-mail

by sms
by mail

Innovations of mobi-g® are the possibilities in design: Gift cards - physical and virtual - can be combined with a personal message made of text, image, voice or animation and those also can be joined with great packaging.
mobi-g® is working like a mobile wallet. Gift cards of included trading partners can be attached to administration and virtual wallet, so they can easily be redeemed with a smartphone at POS. By using the news function users are able to look for offers and information of those included trading partners. This function enables the trading partners to shape their marketing actions specifically, which can be deduced to particular local actions, e.g. in connection with location based services, to strengthen a special store/area with some action.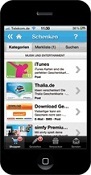 Choose your card out of different categories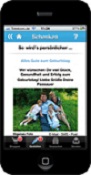 Design your card with text, photo, sound or animation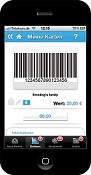 Redeem your card at a store or online
The advantages of mobi-g®:
• smart and innovative
• environmental, because in the midterm pvc-cards can be abandoned
• personal by the use of personalisation and animation
• portable, mobile and still with local content
• comfortable
• interactive with social network integration